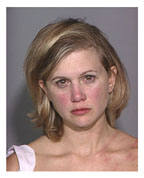 September 3,2004 Tracey Gold Marshall flipped her SUV on a highway in Moorpark.

Her Husband, Roby and 3 sons, Sage, Bailey and Aiden were passengers in the vehicle.

Roby substained neck injuries.

Sage substained a broken collar bone

Bailey was cut on the head.

Tracey and Aiden were uninjured.

She was arrested for DUI and was held for 5 hours in The Ventura County Sheriff's Office lockup . She was released on $50,000 bond.

She has been charged with 3 felonys.
1. Driving under the influence of alcohol causing bodily injury.
2. Driving with a blood alcohol level in excess of .08% causing injury.
3. Child endangerment.

Senior Deputy District Attorney Kim Gibbons said the maximum sentence is 5 years in prison. but it is common for people in such cases to recieve probation or a lesser amount of jail time.

Tracey is scheduled for arrigment October 19,2004

Tracey plans to plead Not Guilty.


my my my...I am still kind of shocked over this whole event. I have thought about how I wanted to present this page. The first few ways was not very nice. I decided to just layout the facts and stay neutral. (you all have no idea how many times I have edited this page!!)

MADD Online
bacchusgamma.org
WARNING!!GRAHIC DUI PHOTO'S WARNING!!