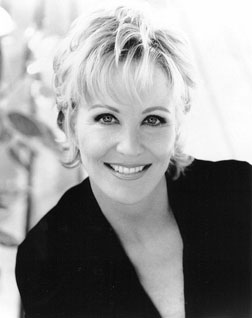 A One Story--Love Story, Joanna Kerns Couldn't Get Her Post-Divorce Bunglow Right--Until She Met An Architect With A Great Eye And The Good Taste To Marry Her
Joanna Kerns, former prime time mom on the long-running hit Growing Pains and it's season's hot love intrest (of Chicago Hopes's Hector Elizondo and The Closer's Tom Selleck) stands in the courtyard of her Los Anglese home holding fluffy calico cat, Louise, with dog Sam at her feet. She's inspecting a climbing rose by the doorway, one of the many romances touches she and her husband, architect Marc Appelton, have added to give the place its cozy, cottagelike charm. "Hey, who's been digging?" she asks Sam, who, like Louise, is an adopted stray. Sam's the very picture of soulful, brown eyed innocence. Kerns, with her tousled blond hair, faded jeans and butter-yellow T-Shirt sporting tiny coffee stains, shoves the dirt back with the toe of her white sneakers.

When Kerns came upon the circa-1926 house-"just a little white Spanish bungalow that was completly blad out front, and was very dark and smelled of cigars inside," as she describles it--she had a good feeling. At the time, a good feeling was a welcome change. Kerns had moved out of the house she had once shared with her first husbandm producer-director Richard Kerns ans wanted a new home for herself and her daughter, Ashley, then 10. Initlly, though, she had trouble capturing the spirit of the place. "First I did a Santa Fe remodel that I got tired of immediately," she says.

Things went more smoothly when it came to restoring her love life. In 1990, about a year after moving into her new place, she went to a friend's house--"my favorite on earth at that point"--and met Appelton. "We were an item from the moment we met," she says looking freshly smitten when she mentions her husband's name. Only later did she discover that man with the killer dimples and the self effacting style had designed the house where they'd mey--and that, in fact, he was a topflight architect who now counts among client the producers Richard and Lili Zanuck, Titanic composer James Horner, and Architectural Digest editor Paige Rense. "I didn't know who Joanna was, either," says Appelton who had recently separted when they met. "Until we went on our second or third date, I thought she was a very pretty real estate agent."

Before long, however, Kerns had engaged Appleton in what would become a labor of love, breathing fresh life into the house that they would eventually share. "We were both starting over," says Appelton, looking very J. Crew in his slouchy blue sweater. "Yes," says Kerns, laughing. "When I met Marc, he was a real bachelor, living in an apartment with one fork. I was a victim of divorce too. I didn't have any furniture, and I was afraid to start from scratch. I'm so lucky to have Marc's eyes. I can't tell you what it's like to have a husband who can pick out wallpaper."

Not to mention one who can paint charming watermelons, design a piece of furniture for a birthday present, and transform a backyard shack into a bright, airy office for Kerns. With its rough hewen oak floorsm thick stucco walls, and French doors opening to the gardens and pool, the place had the charm of a Mediterranean villa and a Nantucket cottage rolled into one.

The space was much needed. "The phones in the hoouse rang constantly", says Appleton, rolling his eyes. "If I weren't in her life, she'd be doing business 24 hours a day." Counters Kerns: "That's absolutely not true! Who's working on 24 houses at once?"

Despite her schedule, Appleton found time to choose the perfect color of the exterior of the house--a daring (to Kerns anyway) sun drenched golden yellow. "Can you believe I ever argued about it with him?" Kerns asks. To boost its privacy he added a courtyard in the front, complete with a fully grown jacsranda tree lowered in place by crane. Then he planted the hint that he'd like to stick around a while himself, edging a window onto the courtyard with a few tiles from his maternal grandmother's Santa Barbara hacienda.

As it turns out, Appleton did have more than a fork when they met--he had inherited some impressive family heirlooms. His grandmother's hacienda was so grand that when it went on the block it was bought by a famous Middle Eastern billionare. His father's side of the family were Easterns, with roots going back 365 years. "Marc has a lot of really nice 'looms'," says Kerns. "I tell everybody our families are like the Rockefellers and the Clampetts."

Maybe if the Clampetts belonged to an aristocratic line of good looking, articlulate athletes. Kerns' father was an all American in football and crew at the University of California, Berkely; he sister, an Olympic gold medalist in swimming, is broadcaster Donna DeVarona; as a teen, Kerns just missed making the Olympic gymnastic team. ("It was important for us to have comfortable homes as adults," says DeVarona, "because we saw ours so little growing up.")

Whatever their backgrounds, the couple have combined them beautifully. The dining room, for instance, holds Kerns' art nouveau posters and lovely wicker settle she bought at an auction ("I have serial obsessions," she says. "I used to go to auctions. Now I run.") Appleton contributed his own designs--a couple of consoles and an antiqued mirrior--as well as his grandmother's craved Spanish table and a rug oh hers that fits the space perfectly.

Although Appelton calls the house "a real mishmash, a jumble," it actually looks like a place that belongs to a couple with a history, who shares intrest and really mesh. "Joanna and Marc work hard, they're great friends, and they respect each other," says Kerns' brother Dave, a Seattle restauranteur. "Alot of people are always on their way someplace, but they're never where they are. Those two have made a home for themselves."

This isn't to say Kerns is crazy about everything Appleton brought to the union. "He told me I could choose between that," she says, pointing to a stuffed rainbow trout hanging over the kitchen doorway, "which he caught--" (Fishing with my grandfather at Lake Arrowhead when I was 13," he interjects.)"And a stuffed deer head," she continues. (A trophy buck I traded my arrowhead collection for--the worst mistake I ever made," he says.) "The fish won," she says. "The deer head is in storage," he adds.

Maybe she'll come around. Kerns, after all, is the kind of woman who recognizes a catch when she sees one.