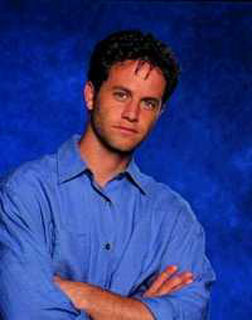 The Growing Pains Couple Wedding
couple swore they didn't want a Hollywood wedding. But when a teen throb trades vows with his small-screen leading lady, it's tough to keep things tinsel-free even in little Cheektowaga, N.Y. (pop.90,000), just outside Buffalo. The groom, Kirk Cameron of ABC's Growing Pains, sneaked unnoticed into Our Lady Help of Christians Catholic Church, but the bride--his sometime costar Chelsea Noble--emerged from a white stretch limousine, hitched up her handwoven silk wedding gown (by D.N. Evans Couture of West Hollywood)and threaded her way through a swarm of reporters and 1,000 screaming fans.

Once safely at the altar, the couple read marital pledges they had composed and exchanged rings. At the close of the 45-minute ceremony, the pair appeared outside the church and flashed thumbs-up signs. It was, as one guest observed, "a very traditional wedding."

For a couple who first publicly divulged their relationship last fall on the Sally Jessy Raphael show, tradition might not seem of paramount concern. But Cameron, 20, and Noble, 26, are devoted, family-oriented Catholics; Cameron's best man was Noble's brother, David Mueller, and the maid of honor was David's wife, Heidi. The ceremony took place in Noble's hometown, where the couple had arrived after filming an NBC Christmas movie, Honor Bright. The guest list was 100% limited, even excluding Cameron's Growing Pains costars. "They wanted to keep this day for themselves and their families," said Tom Estey, a spokesman for the couple. "This marriage is very sacred to them."

That Cameron, whom millions watched eke into puberty and then barely beyond during five seasons as Growing Pains' Mike Seaver, should be marrying might come as a shock -- he seems scarcely old enough to be honeymooning.(Exactly where he is doing that no one was saying.) It was only a few short years ago, after all, that Cameron confided in an interview that he wanted to be a brain surgeon and that the only roommates he was interested in were his three pet snakes and a pet tarantula.

But for those who watched a scripted Growing Pains romance between Noble's and Cameron's characters spill over into real life, the story line's end seemed inevitable. The couple's first "special date" took place on Valentine's Day last year, and Cameron's proposal last Christmas season was storybook simple: He hid an engagement ring inside a heart-shaped music box, then presented the gift during dinner at Noble's favorite restaurant.

Noble, a former model, had several brief TV appearances --including one with Kirk's younger sister, Candace, 15, on Candace's ABC series, Full House -- before landing Growing Pains and Cameron. She says her parents (her father, an engineer, died last year; her mother, Irene, is a private investigator in Cheektowaga) laid forth a vision of matrimony that she hopes to duplicate. "They were married 36 years," Noble explains,"and Kirk and I know that we can get through anything with our foundation of faith and family."(His parents, Robert, a gym teacher, and Barbara, who manages her son's career, have been married 22 years.) And though there are no plans for art to imitate reality -- Mike Seaver will remain single at least for the coming season -- Cameron's personal position is cloyingly clear. As America's favorite adolescent gushed last year, "When you love being with someone, you just know that you can't live another day without her."